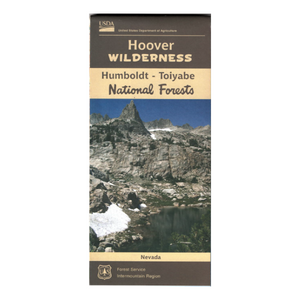 Hoover Wilderness is located in Humboldt-Toiyabe National Forest west of Bridgeport, CA. Covering over 128,000 acres, the wilderness is bordered by Stanislaus National Forest to the west, Yosemite National Park to the south and southwest, and Inyo National Forest to the southeast. Small portions of the wilderness extend into Inyo National Forest. The wilderness is entirely within California yet administered by the Humboldt-Toiyabe National Forest in Nevada. 
This map covers the entirety of the roadless wilderness, with topographic detail, trails and trailheads, water sources and springs, and National Forest boundaries. National Forest maps include topographic information, hiking trails, service road, regulations, and contact information if you need permits or additional information before you trek into the wilderness.
Scale: 1:63,360 (1 in. = 1 mi.), 200 ft contour interval. Paper. 2017
Every purchase made through our online store helps us continue our nonprofit education programs and services on Southwest public lands.