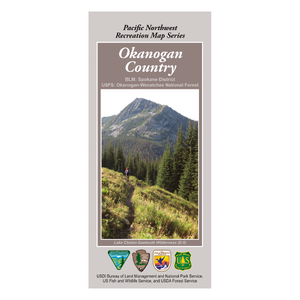 Map: Okanogan Country (Okanogan National Forest) WA - PNWRMS - 2018
---
Okanogan Country sits in north-central Washington, bordered by the crest of the North Cascades to the west, the Columbia River to the south, Canada to the north, and the Okanogan Highlands to the east. Four scenic byways, or tourism routes, bisect the area: the North Cascades Scenic Highway, the Cascade Loop, Okanogan Trails Scenic Byway, and the Coulee Corridor (a National Scenic Byway). This incredibly diverse landscape includes the rugged granite peaks of the North Cascades; the popular Methow Valley, the wide, fertile Okanogan River Valley with orchards and farmland; the geographically unique Okanogan Highlands; and the shores of approximately 50 miles of the Columbia River.   
Map contains the Okanogan-Wenatchee National Forest, parts of the BLM Spokane District, the Pasatayen Wilderness, the Lake Chelan-Sawtooth Wilderness, Loomis State Forest, part of the Lake Chelan National Recreation Area and North Cascades National Park, and insets for the Washington Pass area, the Twisp River area, the Harts Pass area, the Concully area and the Five Lakes area. 
The Pacific Northwest Recreation Map Series is jointly created by the Bureau of Land Management and US Forest Service. They provide surface land status and key recreation features like roads, campgrounds, and day use areas on federal lands (including National Forests, National Parks, US Fish & Wildlife Service lands, and more).

2017, printed on water and tear-proof synthetic material. $19.99.
This map is suitable for Washington Game Management Units 101, 203, 204, 215, 218, 224, 231, 239, 242, & 243.
Every purchase made through our online store helps us continue our nonprofit education programs and services on Southwest public lands.