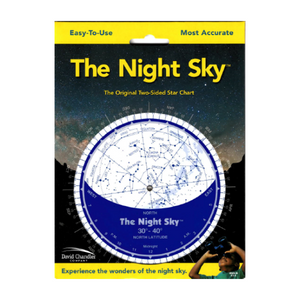 Note: This planisphere is only calibrated to 30° to 40° northern latitude. Areas outside of these latitudes require different planispheres for accuracy.
Find the names of the constellations and stars above you with this planisphere from the David Chandler Company! Simply rotate the dial to align the viewing date and time, and suddenly you have the night sky in front of you! The front shows the night sky from ground level looking to the north, while the reverse features the horizon looking south.

This version is slightly condensed from the larger version, so some constellations and stars may not be shown in detail.
This dial has a roughly 5.5" diameter, with a sturdy plastic and metal rivet construction. Best read with a red flashlight at night to keep your eyes adjusted to the dark.

Every purchase made through our online store helps us continue our nonprofit education programs and services on Southwest public lands.